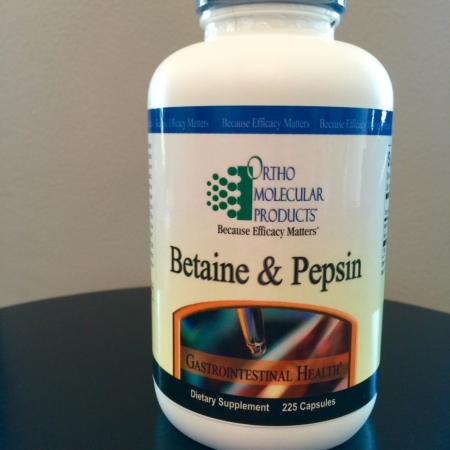 Details
SKU: betaine&pepsin
Symptoms of indigestion are often mistaken for excessive gastric acid. This leads many to take acid blockers in attempt to lower stomach acid, when the true culprit is likely to be insufficient levels of HCl. The resulting reduction in stomach acidity can lead to impaired protein digestion and mineral breakdown over time, as well as changes in the gut flora and promotion of unwanted bacteria such as H.pylori. Maintaining adequate levels of HCl is fundamental to healthy protein digestion, nutrient availability and maintenance of beneficial gastric flora. Betaine HCl and pepsin are produced by the hormone gastrin. Gastrin signals the gastric glands and parietal cells to produce HCl, and stimulates chief cells to produce pepsin. Once the pH of the stomach reaches around 2.0, the gastrin mechanism slows and the negative feedback causes parietal cells to decrease production of HCl. Since pepsin is most active in low pH values, gastric juices must be acidic for the enzyme to function. Support of natural gastric secretions and acidity with Betaine & Pepsin supports normal digestion, absorption and optimal immune health. In addition, maintaining an acidic pH in the stomach helps support normal gastric and intestinal flora.
Betaine & Pepsin provides two essential components of healthy digestion: hydrochloric acid (HCl) and the digestive enzyme, pepsin. Hydrochloric acid is vital for the proper digestion of protein and the absorption of vitamins and minerals (especially vitamin B12, calcium, magnesium, copper and zinc). HCl also plays an important role in signaling the pancreas to release digestive enzymes. Pepsin is one of the first enzymes to initiate protein digestion and works in synergy with HCl to provide complete protein digestive support. Betaine & Pepsin includes 1,040 mg Betaine HCl USP and 208 mg Pepsin per serving.
Directions
SUGGESTED USE: 1-2 capsules before each meal or as recommended by your health care professional.
Related
Label
Serving Size: 2 capsules
Total Servings: 112
Supplement Facts
Serving Size: 2 Capsules
Servings Per Container: 112
2 capsules contain
Betaine HCl USP 1,040 mg
Pepsin 1:3,000 Powder 208 mg

If you are pregnant or nursing, consult your physician before taking this product. As with all dietary supplements, some individuals may not tolerate or may be allergic to the ingredients used. Please read the ingredient panel carefully prior to ingestion. Cease taking this product and consult your physician if you have negative reactions upon ingestion. CAUTION: This product contains a desiccant. For best results, keep the desiccant in the bottle until all contents are consumed. DO NOT EAT DESICCANT. KEEP CONTAINER TIGHTLY CLOSED. STORE AT ROOM TEMPERATURE. KEEP OUT OF REACH OF CHILDREN. This product was sealed for your protection. Do not use if outer logoed neck seal or inner-seal is missing or damaged.
† This statement has not been evaluated by the Food and Drug Administration. This product is not intended to diagnose, treat, cure, or prevent any disease.