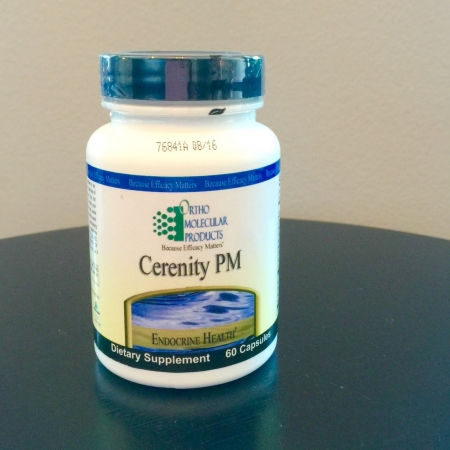 Details
SKU: cerenitypm
Cerenity PM is a comprehensive formula created for patients experiencing occasional sleeplessness. Cerenity PM promotes a healthy sleep cycle by naturally boosting levels of serotonin, GABA and melatonin.
Sleep is the body's way of metabolically and psychologically resetting itself. The body's circadian rhythm is regulated by an internal biological clock with an approximate 24-hour cycle. In order to maintain restorative sleep, it is crucial that the brain has optimal levels of serotonin and gamma-aminobutyric acid (GABA), the relaxing and sleep-regulating neurotransmitters, as well as the sleep-regulating hormone melatonin.
The synergistic ingredients in Cerenity PM, including 5-HTP, PharmaGABA®, and taurine, boost levels of the neurotransmitters and hormones that promote relaxation prior to bedtime and increase the deep, restorative stages of sleep.
Directions
Suggested Use: 4 capsules taken 1-2 hours before bedtime or as recommended by your health care professional.
Related
Label
Supplement Facts
Serving Size 4 Capsules
Servings Per Container 15
4 capsules contain
Vitamin C 50 mg
(as Ascorbic Acid USP)
Niacin 10 mg
(as Niacinamide USP)
Vitamin B6 10 mg
(as Pyridoxal-5'-Phosphate)
Folate 400 mcg
(as Quatrefolic® (6S)-5-Methyltetrahydrofolic acid glucosamine salt)
Calcium 250 mg
(as DimaCal® DiCalcium Malate)
Magnesium 150 mg
(as DiMagnesium Malate)
Zinc 5 mg
(as TRAACS® Zinc Bisglycinate Chelate)
Taurine 300 mg
5-HTP 150 mg
(5-Hydroxytryptophan) (from Griffonia simplicifolia (Seed))
PharmaGABA™ 150 mg
(Gamma Aminobutyric Acid)
Phosphatidylserine 100 mg
(from Soy Lecithin)
Other Ingredients: Natural Vegetable Capsules, Microcrystalline Cellulose, Magnesium Stearate, and Silicon Dioxide.
Do not consume this product if you are pregnant or nursing. Consult your physician for further information. As with all dietary supplements, some individuals may not tolerate or may be allergic to the ingredients used. Please read the ingredient panel carefully prior to ingestion. Cease taking this product and consult your physician if you have negative reactions upon ingestion.
Caution: keep container tightly closed. Store at room temperature. Keep out of reach of children. This product was sealed for your protection. Do not use if outer neck seal or inner-seal is missing or damaged.
†This statement has not been evaluated by the Food and Drug Administration. This product is not intended to diagnose, treat, cure, or prevent any disease.
PharmaGABA™ is a trademark of Pharma Foods International Co., Ltd., DimaCal and TRAACS are registered trademarks of Albion Laboratories, Inc. Quatrefolic® is a registered trademark of Gnosis S.p.A. Patents Pending.