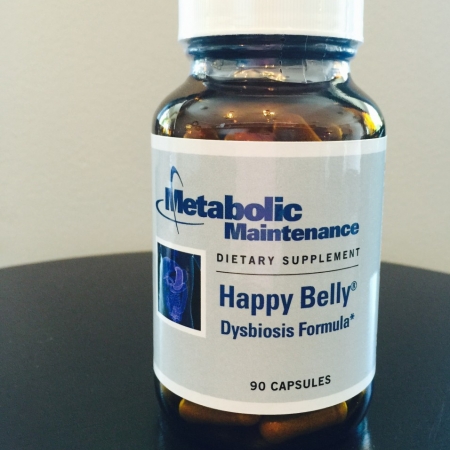 Details
SKU: happybelly
Happy Belly (formerly known as Microbial Maintenance) is a proprietary blend of anti-microbials and botanicals that help support normal balance of the GI Tract. The disruption of this balance, known as dybiosis, can lead to uncomfortable digestive symptoms, and interfere with proper nutrition and immune function. This formula, designed in collaboration with MetaMetrix labs, has the ingredients found most effective for restoring balance in the gut based on stool sample analysis. Probiotics are highly recommended following the use of Happy Belly.*
Directions
Directions: Two (2) capsules two to three (2-3) times daily, or as directed by a healthcare professional. Children under 12: take 1/2 dose. For best results, avoid refined sugars, fruit, fruit juice, and alcohol while using this product.
Related
Label
Serving Size: 2 capsules
Total Servings: 45
Supplement Facts
Serving Size Two (2) capsules
Servings Per Container 45
Amount Per Serving
Magnesium 25 mg
(from Magnesium Caprylate)
Caprylic Acid 300 mg
(from Magnesium Caprylate)
Proprietary Herbal Blend 900 mg
Barberry (Berberis vulgaris) root extract standardized to 6% berberine Oregon Grape (Berberis aquifolium) root extract 4:1 Garlic (Allium sativum) bulb extract standardized to 1% alliin Black Walnut (Juglans nigra) hull extract 4:1 Olive (Olea europaea) leaf extract standardized to 18% oleuropein
Other ingredients: vegetarian cellulose capsule, L-leucine.
CAUTION: Pregnant or lactating women, consult your healthcare professional before taking this product. Keep tightly closed in a cool, dry place, out of the reach of children.
*This statement has not been evaluated by the FDA. This product is not intended to diagnose, treat, cure or prevent any diseases.
Dietary Considerations:
Wheat Free
Gluten Free
Delivery Formats:
Capsules (non-veg or unspecified)