GladdMD Journey Keto 12 Week Program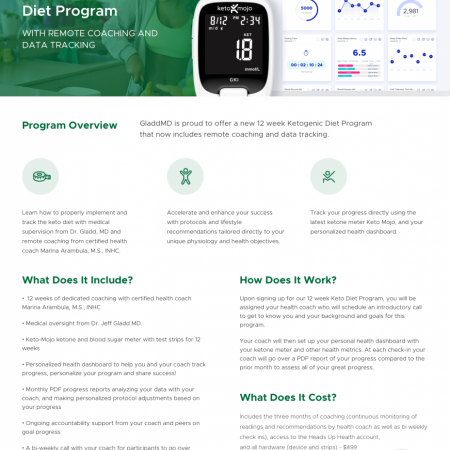 Keto 12 Week Program
Details
SKU: KETOPROG
GladdMD Journey Keto - 12 Week Program
12 week ketogenic diet program with remote tracking and data monitoring
GladdMD is proud to offer you this special opportunity to improve your health with our new 12 Week Ketogenic Diet Program, complete with remote coaching and data tracking.
This program will connect you with certified health coach Marina Arambula M.S., INHC to provide remote coaching, enhanced with medical oversight by Dr. Gladd. Together, they will help you properly implement and track the keto diet.
As part of the program, you will be provided with a handheld device ketone meter, the Keto Mojo, and testing strips, to take daily specific measurements that will be used to assess your progress throughout the program. The remote monitoring will be done through your own personal dashboard from our partners at Heads Up Health. This partnership will all us to accelerate and enhance your success with protocols and lifestyle recommendations tailored directly to your unique physiology and health objectives. Whether you're looking to improve your metabolic health, or just accelerate your weight loss we look forward to supporting you through this journey.
How does the program work?
Upon signing up for our 12 week Keto Diet Program, you will be assigned your health coach who will schedule an introductory call to get to know you and your background and goals for this program.
Your coach will then set up your personal health dashboard with your ketone meter and other health metrics. At each check-in your coach will go over a PDF report of your progress compared to the prior month to assess all of your great progress.
The 12 week program combined with data monitoring is a unique and effective way for you to be able to personally track your progress and take ownership over your health data. You will always be empowered to know how you're doing, no more guessing. With the dashboard, you can easily aggregate all of your lifestyle data, seeing a holistic picture of your health. This, combined with the support from your health coach, allows you to be more engaged in your weight loss program, and ultimately better your results.
Your program includes:
12 weeks of dedicated coaching with certified health coach Marina Arambula, M.S., INHC

Medical oversight from Dr. Jeff Gladd MD

Keto-Mojo ketone and blood sugar meter with test strips for 12 weeks

Personalized health dashboard to help you and your coach track progress, personalize your program and share success!

Monthly PDF progress reports analyzing your data with your coach, and making personalized protocol adjustments based on your progress

Ongoing accountability support from your coach and peers on goal progress

A bi-weekly call with your coach for participants to go over progress and address questions

This is for anyone who is looking to accelerate their weight loss, lessen the effects of a chronic condition, improve your metabolic health, or just those health enthusiasts looking to optimize their biomarkers.
Total Investment Includes:
$499 for the full program which includes:
Three months of continuous monitoring of readings and recommendations by health coach

Unlimited questions and contact with health coach

Bi-weekly check ins

Access to the Heads Up Health account

All hardware (device and glucose and ketone strips)

10% off of supplements during membership
Related