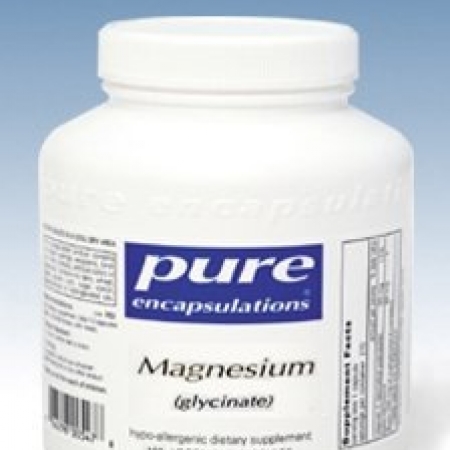 Magnesium glycinate is one of the most absorbable forms of magnesium, a nutrient helpful for constipation, muscle tension or heart palpitations.
Details
SKU: gla26037
Magnesium activates the enzymes necessary for a number of physiological functions, including neuromuscular contractions, cardiac function, and the regulation of the acid-alkaline balance in the body. It is necessary for the metabolism of carbohydrates, amino acids and fats; also for energy production, and the utilization of calcium, phosphorus, sodium, and potassium. This vital mineral also helps utilize B-complex vitamins, vitamin C, and vitamin E. Magnesium glycinate is less likely to cause loose stools than other forms of magnesium.

Magnesium in aspartate, citrate, citrate/malate, and glycinate forms are highly bioavailable magnesium chelates, supporting the metabolism and utilization of many essential nutrients and the proper functioning of important enzymatic and physiological functions.
Dosage
SUGGESTED USE: As a dietary supplement, take one to four capsules daily, in divided doses, with meals.
STORE IN A COOL, DRY PLACE. KEEP OUT OF REACH OF CHILDREN.
Related
Label
Serving Size: 2 capsules
Total Servings: 60
| Item | Amount |
| --- | --- |
| Magnesium (as magnesium glycinate) | 120 mg |
| Ascorbyl palmitate (fat-soluble vitamin C) | 10 mg |
Other Ingredients: vegetarian capsule (cellulose, water)