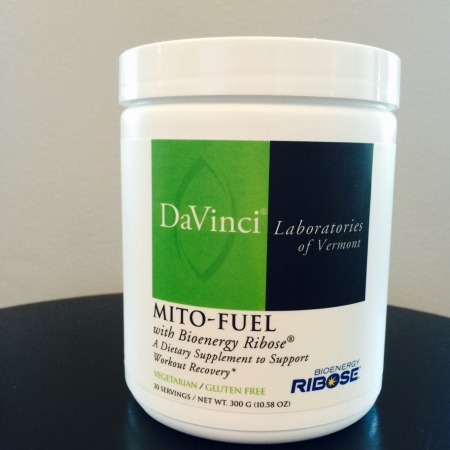 Details
SKU: mitofuel
Mito-Fuel is a 5,000 mg D-Ribose based product to support mitochondrial function.* Combined with Acetyl L-Carnitine, Malic Acid, DMG, Rhodiola, Coenzyme Q10 and Bromelain, it is a formula that helps reduce fatigue and restore cellular function by promoting the production and recycling of ATP.* It can also be used pre and post work out. Mito-Fuel is a great tasting powder drink mix supplement.
Directions
Suggested Use: As a dietary supplement, mix one scoop daily in water, before a workout. On days not exercising, take once daily at breakfast, or as directed by your health care practitioner
Related
Label
Supplement Facts
Serving Size: 1 (10 g) scoop
Servings per Container: 30
Amount per Serving:
D-Ribose 5,000 mg
Acetyl L-Carnitine 500 mg
Malic Acid 300 mg
DMG HCl 100 mg
Rhodiola rosea Extract 75 mg
yielding rosavins 2.25 mg
Co Q10 30 mg
Bromelain 625 GDU
Protease (from Aspergillus niger) 75,000 HUT
Stevia 45 mgOther Ingredients: natural orange powder, natural orange flavor, citric acid, tricalcium phosphate.
This product is vegetarian and free of gluten.

Color of this product may vary due to color variations of the natural Ingredients
Warning: If you are hypoglycemic, or pregnant or nursing, consult your health care practitioner before taking this product
Keep out of reach of children. Store in a cool, dry place. Do not refrigerate.
This product is packaged by weight, not by volume. Some settling may occur
Dietary Considerations:
Gluten Free
Vegetarian
Yeast Free
Delivery Formats:
Powder