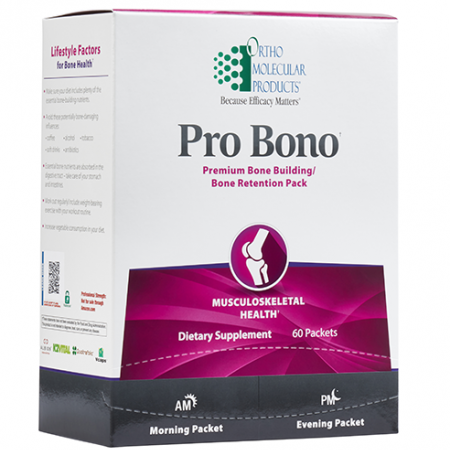 Pro Bono is an intense program for osteopenia and osteroporosis, providing all the bone building support one needs. Be certain to also optimize vitamin D levels to the 50-100 ng/dL level
Details
SKU: gla26049
Convenient single-serving packets travel anywhere. Therapeutic strontium dose is divided from calcium dose - Enchancing calcium uptake! Formulated for bone building and bone retention. Two critical elements for healthy bones throughout the aging process. Includes targeted nutrients for therapeutic bone health, AND the essential components of a daily multi!
Dr. Gladd Says
"Pro Bono is an intense program for osteopenia and osteroporosis, providing all the bone building support one needs. Be certain to also optimize vitamin D levels to the 50-100 ng/dL level."
Dosage
SUGGESTED USE: 2 packets per day with a meal. Maintenance: 1 packet per day with a meal or as recommended by your health care professional. Caution is advised for those taking digoxin or any cardiac glycoside, those taking Warfarin or orther blood thinning medications, kidney failure, those with hyperuricemia, or hypercalcemia. Do not consume this product is if you are pregnant or nursing.
pro-
Related
Label
Pro Bono is a product that incorporates many bone supporting elements in a convenient packet that can be taken on the go. Bone health is an important issue and requires a long term health plan.
The importance of calcium is well known and highly marketed in the United States and Europe for its role in bone health. Other important bone minerals include magnesium and manganese. Approximately 50% of magnesium found in the body is in bone and often times diet alone does not supply the appropriate amounts of magnesium needed to sustain bone health.
Vitamins K and D are also needed to support bone health. Vitamin K is required for the synthesis of osteocalcin, a bone protein needed for bone formation. Pro Bono has included two different forms of vitamin K known as phytonedione (K1) and menaquinone (K2 as MK7). To date most of the research done on vitamin K and bone health has used K1 with positive outcomes. More recently vitamin K2 has been found to have a longer half life than K1, which means serum levels of vitamin K are more stable and longer lasting.
Strontium has also been included in this well rounded bone support supplement. Strontium is a mineral with similar properties as calcium. It is unique in that it increases bone formation while also preventing bone resorption.