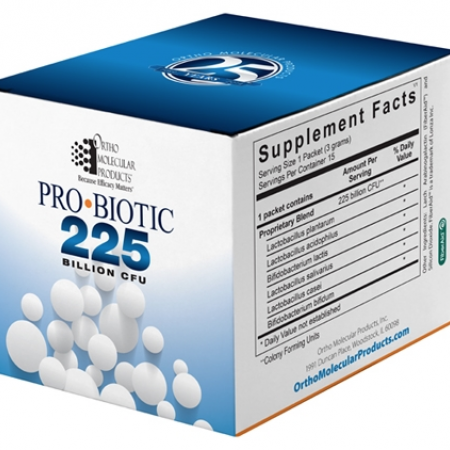 Supply live probiotic organisms to the gastrointestinal tract for both supplemental and therapeutic benefits.
Details
SKU: probiotic-225
Potent
PRObiotic 225 takes probiotic potency to the next level for your most challenging cases. Each extra-strength packet is guaranteed to have 225 billion cfu's at the time of expiration. PRObiotic 225 is formulated to travel easily and requires no refrigeration to retain maximum potency.
Smart
PRObiotic 225 is a multistrain probiotic and each strain has been specially selected for it's unique metabolic activity and ability to support normal intestinal ecology.
Tough
Strength and durability are key elements of probiotic efficacy. The hardy strains chosen for PRObiotic 225 have been researched and verified to survive the harshness of the GI environment and withstand a variety of pH ranges.
*Contains 7 packets (1 week supply)
Dosage
As a dietary supplement, 1 packet per day or as recommended by your healthcare professional.
Related
Label
The use of probiotics as bio-therapeutic agents is commonplace in the US and around much of the world. Probiotics are typically delivered in relatively low-dose functional foods (primarily yogurts) providing a few billion colony forming units (CFU) or less; or in modest doses, in the form of dietary supplements of 5-25 billion CFU. Over the past several years, an emerging trend has witnessed much higher doses of probiotics being used in clinical practice and research.
The initial focus of the clinical research on high-dose probiotics has been primarily on functional GI disorders such as inflammatory bowel disease (IBD), irritable bowel syndrome (IBS), and antibiotic- associated diarrhea (AAD). These conditions represent extreme examples of dysbiosis and dysfunction within the mucosal immune system of the gut; a system which is integrally associated with the microflora of the gut lumen.