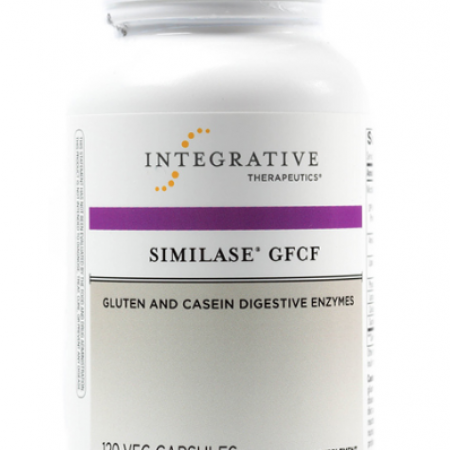 Details
SKU: gla26057
For some, hidden gluten and casein can be the cause of occasional gas, bloating, and indigestion. However, the right digestive enzymes can make a difference when trying to support a gluten free and casein free lifestyle. Gluten and casein are found where you'd never expect them - salad dressings, cold cuts - even toothpaste! Similase® GFCF features DPP IV (dipeptidyl peptidase) activity, from a protease enzyme specific to digestion of gluten and casein.Similase® GFCF also includes a complete range of digestive enzymes. Competing products only tackle gluten - Similase® GFCF helps you digest other proteins, fats and carbohydrates as well.
Dr. Gladd Says
Similase GF/CF is a digestive enzyme that contains DPP IV, a special enzyme that in the lab can break down gluten and dairy. It is not for enabling sensitive people or celiac patients to consume these foods, rather it is support for when eating out or at someone else's home where you cannot guarantee there is some contamination.
Dosage
SUGGESTED USE: Take 2 UltraCaps™ with each meal or as directed by your healthcare practitioner
Caution: While Similase GFCF will reduce the level of reactive gliadin and gluten proteins in a meal, it is advised that celiac disease sufferers continue with their normal gluten exclusion diet as even small amounts of gliadin can cause adverse reactions in the most sensitized individuals. If pregnant, nursing, or taking prescription drugs, consult your healthcare practitioner prior to use.
Contains no sugar, salt, yeast, wheat, gluten, corn, soy, dairy products, artificial coloring, artificial flavoring, preservatives, or ingredients of animal origin. This product contains natural ingredients; color variations are normal.
Targeted support for digestion of hidden wheat and dairy*
Similase® GFCF gluten and casein digestive enzymes offer a proprietary blend of enzymes that are active across a broad pH range in the digestive tract. * As a result of the wide variety of digestive enzymes, including Dipeptidyl Peptidase IV (DPP IV), Similase GFCF provides superior support of hidden gluten and casein digestion as well as the digestion of carbohydrates, protein, fat, and fiber. *
Related
Label
Serving Size: 2 Capsules
Total Servings: 60
| Item | Amount |
| --- | --- |
| Pure Plant Enzymes | 536 mg |
Amount Per Serving:
PLANT ENZYMES™ 494 mg
Assay Method
DPP IV Protease Blend (Protease I,II,III,IV,V)
FCC (pH 4.7) 120,000 HUT
FCC (pH 7.0) 22,660 PC
USP (pH 7.5) 12,556 USP
Amylase
FCC (pH 4.8) 9,530 DU
USP (pH 6.8) 12,800 USP
Lipase I,II
FCC (pH 6.5) 408 LU
FIP (pH 7.0) 882 FIP
Phytase
Phytic Acid (pH 6.0) 0.67 PU
Lactase I,II
FCC (pH 4.5) 642 ALU
Cellulase I, II FCC (pH 4.5) 141 CU
Sucrase (Invertase) FCC (pH 4.6) 119 INVU
Other Ingredients: cellulose, vegetable capsule (modified cellulose), inulin (from chicory root), calcium laurate, and silicon dioxide.