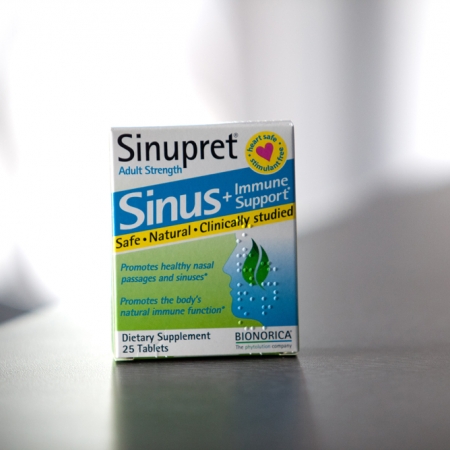 An herbal supplement for sinus and immune support.
Details
SKU: gla26059
Sinupret is a studied herbal blend for the treatment of upper respiratory tract infections like sinusitis and ear infections. It is one of the top remedies for these acute infections in Europe and number one in my home and practice. The benefits are felt to be boosting the immune system and supporting the respiratory tract.
Dosage
SUGGESTED USE: Adults 1 tablet three times daily or as directed by your health care practitioner.
Not to be taken by children under the age of twelve
Recommended for use up to 14 days or as directed by your health care practitioner.
Cautions: Not recommended for pregnant or lactating women or women planning to become pregnant. If you are taking a prescription medicine, consult your health care practitioner.
Keep out of reach of children.
Discontinue use immediately and consult a physician if you experience any allergic reaction or gastrointestinal distress to this product.
Related
Label
Serving Size: 1 tablet
Total Servings: 25
| Item | Amount |
| --- | --- |
| Sorrel (aerial) (Rumex acetosa) | 36 mg |
| European Elder (flower) (Sambucus nigra) | 36 mg |
| Cowslip (flower with calyx) (Primula veris) | 36 mg |
| European Vervain (aerial) (Verbena officinalis) | 36 mg |
| Gentian (root) (Gentiana lutea) | 12 mg |
Other ingredients: microcrystalline, cellulose, hydroxypropylmethyl cellulose, potato starch, magnesium stearate (vegetable grade), titanium dioxide, calcium carbonate, carnauba wax.